Imagine perpetually falling down a black hole and never hitting a bottom. This is the emotional space you occupy by not making a choice – especially a major life choice, such as your home, partner, career, etc.

Many of us are endlessly falling down this pit of despair because we fear making the wrong choice. Maybe we made decisions in the past that led us to feel such great pain, that to choose again is unthinkable. Or, we are simply overwhelmed by the sheer number of options, paths, and varieties on the table that we are paralyzed.

This has been me before, on both accounts. But, I overcame the hell of being caught in limbo by taking action. It's not something you do once and then you are free. Our experience of freedom versus stuck-ness will always exist on a spectrum, except in brief moments.

Not making a choice is like drinking poison. Because of the insidious nature of suffering, indecision can creep into our consciousness without our even noticing. A massive failing of choice (real or perceived) can easily leak down into doubts over which cereal to buy at the grocery store and which entrée to order for dinner. At that point, life begins to feel like a gigantic question mark is constantly staring us in the face. Yikes! Pretty distracting and unnerving, indeed.



---

So what do we do to get out of this self-imposed prison?

Take action, to the best of your ability at this moment.
Observe the results, think honestly and critically about the results, and realign your direction accordingly.
Repeat.

Nothing will clarify both external and internal truth better than taking action. Action produces consequences and feedback that we can then integrate into our understanding of the world and ourselves.

"Action is the antidote to despair"

– Joan Baez

This is why fear is humanities worst enemy. Fear is holding ourselves back. Fear is being ignorant. Fear is choosing safety over the mere possibility failure. Fear leads to suffering. Fear is suffering.

As you can see, the prison of indecision is not a personal problem. It is a societal problem. The more you unchain yourself from indecision, the more humanity as a whole evolves and grows.

What choices are you putting off because of fear? What do you need to take action on now? What cannot wait any longer? Today is the day to take care of unmet needs, unresolved conflicts, and unmade decisions. You can do this.

With Love,

Ethan

No job, no relationship, no place, and no amount of money will make you happy. Happiness is a choice you make

in the present moment

. Sometimes the choice is feeling gratitude. Sometimes - ironically - it's putting yourself through pain or discomfort for a long-term gain. Sometimes it's just taking in the moment fully, without regretting the past or worrying about the future.

The point is, happiness isn't a thing you obtain, but rather

an experience you allow

as you walk the tightrope of life. What happiness looks like in the moment will always change. What won't change, however, is that it's a matter of seizing the moment.
Powered by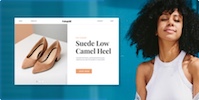 Create your own unique website with customizable templates.