We all think that there is something to lose in any conscious endeavor. Perhaps we will lose our pride when someone speaks negatively of a personal creation. Or maybe, by sharing a secret part of ourselves, it will no longer be our own.

The Truth is that there is never anything to lose. This realization helps me to go "all in" with my pursuits, rather then being hesitant, beating around the bush, or dabbling. It's easy to identify those who are dabbling. They complain, they are indecisive, they talk behind others backs, they give up on a whim. A lot of people are dabbling in their work because their reason for doing it isn't true to themselves...they're doing it out of obligation to something else, imaginary or real, like social pressures, close relationships, or financial responsibility. It takes unfathomable courage to let go of these obligations to move in the direction of our true purpose. It goes against so much of what our parents and teachers tell us. The point is not to disobey them, but to love ourselves fully by honoring our own needs and desires.

Your outer-world is a mirror of your inner-world. You are where you are because you choose to be, so if you aren't happy with it, then change. Peacefully expect that people will reject you, that you will be ridiculed or even threatened, and calmly push on with a vivid vision of your purpose. At the start, it will be rough, and sorry - it will never get easier. But you will gain more confidence, courage, and character.

One day, you are going to die. So what are you waiting for? Go all in and don't hold anything back.



1. The Paradox of Focus

T

he

number one

reason why I fail to achieve all of my dreams is...

Lack of focus!




My mind drifts from this, that, and the other thing. I forget what is most important; I forget to plan; I forget to do basic care-taking of myself. Of course, this is only natural - I'm a human after all, not a computer.

Paradoxically, the

number one

reason why I am able to dream up anything at all is lack of focus. My imagination automatically conjures up images of a better life, success, and a happy future. This is the creative faculty of my subconscious mind projecting deep desires into my conscious mind.

2. What is Laser-Beam Focus?

All of my successes, without exception, have been the result of some amount of laser-beam focus. Laser-beam focus is intense, concentrated streamlining of thoughts and energy. It's those moments when we become "in the zone" and hit the sweet spot of efficiency and effectiveness, whether it's performing on stage, playing a sport, or writing a story. While at times this kind of focus spontaneously occurs, we do have the ability to create the conditions for laser-beam focus, thus allowing us to choose at will when in-the-zone moments will come.

3. Making it Happen

Perhaps this all seems complex, but it's extremely basic and easy. Here are some techniques to create laser-beam focus...

Find a quiet place/time will you won't be disturbed: your room, the library, early in the morning or late a night when everyone else is asleep.
Be aggressive in eliminating distractions: g

o to the bathroom and eat before you start, t

urn off your phone, put a DO NOT DISTURB sign on your door.

Clean your workspace: whether you realize it or not, working in a messy, dirty space is like running through thick mud or quicksand.
Know what you are doing: I do not tell myself, "I am going to write a blog post." That's way too vague; I'll never get it done. I tell myself instead, "I am going to write a one page blog post on laser-beam focus which includes a background explanation and transitions into a list of techniques."
Take deep breaths as you dive deep and come up for air when you need: I'll let you interpret this metaphor on your own.
Stop for no one and nothing: this is the test of how bad you want it. If you don't want it all that much, you will allow distractions to float into your mental and physical space and keep you from getting it done.
Powered by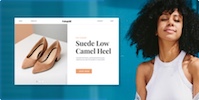 Create your own unique website with customizable templates.