A person's most powerful asset in life is their thoughts. Thoughts mold and shape your experiences, so being in control of them is important if you want to be the creator of destiny rather than the subject of fate.

I have found that each thought I have produces a consequence. If, for instance, I wake up in the morning and think, "today is going to be a good day", I usually end up having a good day, because I have set that tone within my mind. By setting a positive tone within my mind, I have positioned myself to react to the events throughout my day in a positive manner.

Say that I'm going about my day and someone at work makes a rude comment...if my mental tone is positive (ie. "today is going to be a good day"), it is likely that I would simply brush it off and forget about it. But if my mental tone is negative, it is likely that I would allow the comment to bother me and distract me from my work.

If my car breaks down on the drive to an important meeting, one option is to become extremely distraught and think, "I can't believe this! I hate this stupid car! What am I going to do?!" Another option is to remain calm and think, "Aww, man. Well, this sucks. But it's okay. I'll call those waiting for me and let them know. I don't know how I'm going to get this fixed, but I know I'll figure it out." What follows in the first scenario of thought process is most likely continued difficulty, struggle, and misfortune. What follows in the second is most likely a speedy recovery and immediate solutions to the problem.

Each thought plants a seed which will inevitably produce consequences. By choosing which seeds you plant and nourish, you become the creator of your destiny.

Does this idea resonate with you? I suggest reading, "As a Man Thinketh" by James Allen. The book begins as follows:

"Mind is the Master-power that molds and makes,
And Man is Mind, and evermore he takes
The tool of Thought, and, shaping what he wills
Brings forth a thousand joys, a thousand ills:--
He thinks in secret, and it comes to pass:
Environment is but his looking-glass."


Worry is a beast. Let's tackle it.

Define your purpose and intention. A

clear, definite purpose breeds confidence and eliminates indecision. Make it vivid and make it concrete.

Act confident even if you aren't. Assume the role of a confident person, and by God, you will become one.
Let go of the need for control. Worrying is the product

of the fear of not having control. Worry ceases to exist in the mind of a person who both

knows that they are in control of their life and accepts that they cannot control Life itself.
Get out of your head and into your body. The imagination is perhaps our greatest blessing and our greatest curse. The imagination allows us to leave the moment and dream of inventions, plans, and a better world. But the imagination is the exact same place where worry develops. By moving out of the imagination (ie. your head) and bringing awareness fully on the senses of that which is currently present, you block out the space for worry to emerge.
Have faith. Having faith is the most simple and surefire way to win the battle against worry. By trusting in God, Life, the universe, or even your very own capabilities, you literally create an invisible forcefield which no murmur of a worry can touch.
Powered by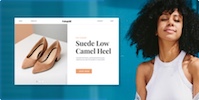 Create your own unique website with customizable templates.