Life has two forms of experience – physical and metaphysical. The physical experience happens through your body and is the five senses of perception: taste, touch, smell, sound, and sight. The metaphysical happens through your mind and is the sixth sense of perception: emotions, feeling, and imagination.

I believe that imagination trumps all the other modalities of experience in terms of its magnitude and importance in determining our experience of reality. Imagination is the capacity to taste, touch, smell, hear, and see things that are not physically present. Imagination is also the capacity to experience things that are physically present in different ways. At a certain point, the question becomes, where is the line between what we physically experience and what is a matter of our minds?

What many see as life's great mystery is the paradox of experience being both within us and without us. Like a wet bar of soap, reality is always escaping our grasp and evading definition. There is beauty and pain in this truth. The beauty is that we hold the key to our experience but the pain is we lack control of ourselves – therefore, putting the key in the lock is immensely challenging. We hurt and harm ourselves and everything around us in the pursuit of fulfillment. Every human wants the same fundamental thing – just in different ways, by different means.

---

No job, no relationship, no place, and no amount of money will make you happy. Happiness is a choice you make

in the present moment

. Sometimes the choice is feeling gratitude. Sometimes - ironically - it's putting yourself through pain or discomfort for a long-term gain. Sometimes it's just taking in the moment fully, without regretting the past or worrying about the future.

The point is, happiness isn't a thing you obtain, but rather

an experience you allow

as you walk the tightrope of life. What happiness looks like in the moment will always change. What won't change, however, is that it's a matter of seizing the moment.
Powered by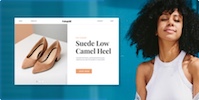 Create your own unique website with customizable templates.